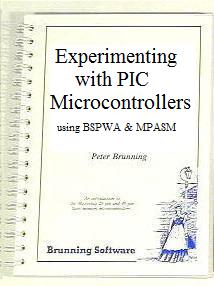 Book 1: Experimenting with PIC Microcontrollers 7th Edition P955H

Everyone should start programming PICs using assembly language because this is the only way to fully understand what happens, but there is a general misconception that PIC assembly language is difficult. Imagine trying to teach English grammar to a child before allowing him or her to speak yet that is how most books approach a technical subject. Our first book introduces PIC assembly language programming by jumping straight in with four easy experiments. The first is explained over seven and a half pages assuming no starting knowledge of PICs. The programmes are tested using the simulator then written into the test PIC and run in the real world.

Then having gained some practical experience we study the basic principles of PIC programming, learn about the 8 bit timer, how to drive the liquid crystal display, create a real time clock, experiment with the watchdog timer, sleep mode, beeps and music, including a rendition of Beethoven's Fur Elise. Then there are two projects to work through, using a PIC as a sinewave generator and investigating the power taken by domestic appliances.

The second project requires us to measure voltages and currents. Previously we needed to change to using a more expensive PIC but an analogue to digital converter is one of the extra features contained in the PIC16F1827. Now we are able to continue using the same PIC.

Finally we learn how to adapt the experiments right through the book so the software can be run in the PIC16F627A family, and PIC18F25K22 family. In the space of 24 experiments, two projects and 56 exercises the book works through from absolute beginner to experienced engineer level, covering a comprehensive selection of up to date microcontrollers.

For most of the experiments we use the Brunning Software assembler BSPWA. But in Chapters 3M and 5M we repeat some of the previous experiments using the official Microchip assembler MPASM X. The text used for both assemblers is identical so when we repeat the experiments we simply load in the file we have already created using BSPWA. So we benefit from the simplicity of BSPWA while also learning to use MPASM X.

This book is wirobound to open flat, 240mm x 170mm, 320 pages.